All through the last dismal spring with its icy winds and late snow we dreamed of sunny summer days, then we got them, and my goodness were we grateful, but then they went on, and on.. and on…
7 weeks without a drop of moisture and unheard of temperatures for N. Wales with many days peaking at 25C or above – over 30C on several occasions. I have already commented in last month's entry on the early damage, especially to cushion saxifrages (I see that John Richards in Northumberland has lost some of those too), and only constant attention with the watering can, and latterly with the hose, has saved many other plants. And its not only alpines and border plants that have suffered, one or two shrubs have succumbed, the drought probably providing the coup de grace following earlier damage caused by the 'Beast from the East'.
Especially mourned is a largish, 20 year old Embothrium coccineum 'Norquincol Valley form', especially as I do not have time to grow another to similar imposing dimensions! Also, to my surprise, an even more venerable Viburnum x juddii that flowered gloriously (perhaps too gloriously) earlier this year. The space vacated by the latter has been in part given over to Hedychium gardnerianum, an easy member of a genus to which I am becoming addicted, although you should be warned that all are invasive and some can become a menace; some future owner of the garden may well curse me for my enthusiasm. The plant mentioned had been assumed dead after the last cold spell, the surface rhizomes and flower buds having turned to mush, but behold, when the warmth arrived strong new shoots emerged from below ground and I was able to divide the clump into three, one left in situ, one moved to the aforementioned plot, and one given (with appropriate caveats) to a friend with a large enough garden for it in nearby Llanberis.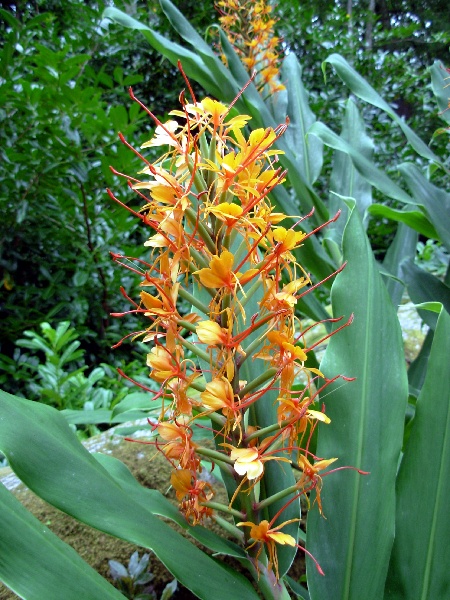 A happy association
I very rarely plan colour combinations or synchronicity of flowering, generally simply putting plants in where there is a space in a plot which will hopefully meet their requirements. And so it is in this case where by chance Alstroemeria presliana subsp. australis, Campanula alliarifolia and Geranium dalmaticum have grown into one-another in this sunny, sharply draining moraine bed.
The alstroemeria was grown from seed obtained many years ago from one of John Watson's collecting trips in Chile where it is described as growing in open, sub-montane monkey-puzzle woodland between 500 and 100m elevation. As compared to A. presliana subsp. presliana this form has larger, much more intensely coloured cerise pink to carmine flowers with red streaking on a yellow background in the throat.
The campanula, which as you can see is unfortunately a bit of a sprawler, comes from areas of open woodland and scrub in the mountains of the Caucasus and Northern Turkey. Geranium dalmaticum, as the name implies, comes from coastal mountainous regions in Croatia, also Albania. In both the standard strawberry pink form shown and the white variant this is an excellent, easy plant for any sunny or half shady spot, forming a close mat of tidy foliage which produces a long succession of flowers.
Crepis incana
I have shown this several times before, but that is only because it is such a reliable and good plant for the July alpine garden. The plant illustrated is about 20 years old and shows no sign of deterioration, no dying out of rosettes in the middle of the clump, just a steady addition at the edge. A very hot place with sharp drainage is all that it requires. When I saw it on the slopes of Mt Parnassos I hardly recognised it as it was so small compared with my plant.
Some 'spinies'
In midsummer, plants with interesting spiny leaves and/or flower heads are of value, even though many of them are really too large for all but the most commodious rock garden. Eryngiums fall into this category and I have quite a few dotted around the garden. in the aforementioned moraine bed E. variifolium has made a large clump over about five years and as you can see it flowers very freely, although I would prefer them to be of a stronger shade of blue. No such criticism can be made of E. bourgattii 'Picos Blue', or E. zabellii 'Big Blue', which have got together here to produce hybrid seedlings all of which are good. I just let them grow where they will and both the bees and I enjoy their contribution, especially in a period of drought such as we have just experienced.
Berkheya purpurea is a thistle relative from South Africa where it occurs at 1,500-3,000 m above sea level, from the mountains of the Eastern Cape to the Drakensberg in KwaZulu-Natal and also in Lesotho and Orange Free State. It is supposedly a perennial, though I have never managed to keep it through our wet winters. The flowers are large (7.5 cm diameter) and produced over a long period from mid-June onwards. It is easily grown from seed and will flower in the second year, or maybe the first if sown early and grown on fast.
(Click on individual photos to see bigger images and more information)
And finally, for something completely different…
As regular readers will know, I have a very small orchid house kept at +15 C minimum, occasionally in lean periods for alpine flowers I show what seem to me to be interesting occupants of this 2 cubic metres of tropical paradise, and flowering at present is one of the 'upside down' orchids, now placed in a separate genus Prosthechea, formerly included in the much larger Encyclia. When you study the photograph of Prosthechea 'Green Hornet' you will realise how these orchids acquired their common name.