Well, the heat wave had to come to an end some time, although it turned out to be one of the longest, hottest and driest since records began > 150 years ago.
So far this month normal temperatures and rainfall have prevailed and that is nice, at least as far as the garden is concerned. There must have been far too many weed seeds just waiting to germinate when moisture conditions allowed, for all the paths and beds are liberally scattered with seedlings, including lots of annual meadow grass and 'poppers' (Cardamine hirsuta), but also much more welcome things, notably Echium pininana and E. wildpretii. Some of the echiums were left to grow on, but only where their large ultimate size would not be an embarrassment, others were moved to more suitable locations, some potted up to give away, and the remainder weeded out.
Jenny and I spent today cutting back luriant growth on various shrubs, including several large camellias. We then went on to dig out two stalwarts of the garden that had been killed by the late cold spell followed by the drought, the gorgeous, pre-Christmas flowering Camellia sasanqua var. narumigata, which I see was purchased from Bodnant Nursery in 1994, and spectacular Embothrium coccineum from the Norquinco Valley in Chile, which I grew from seed sown 15 years ago. Such old 'friends' are hard to say goodbye to and impossible to replace at my time of life. Anyone have suggestions for a fast(er)-growing shrub for a N-facing wall to replace the camellia? I have an enormous dead Eucryphia x nymansensis ' Nymansay' to remove too, but that can wait for another day.
There are very few noteworthy plants in flower to report on at the moment, and they have probably been mentioned in earlier blogs at this time of year, but repeat pictures are perhaps better than no pictures at all, so here goes. Acis autumnalis continues slowly to increase and always merits close attention, I would go so far as to say that it is one of my favourite bulbs. It seems to grow equally well in sun or light shade and performs here following a dry or wet summer. I haven't grown it from seed, it being easy to prise out a few bulbs from the clump as it starts into growth.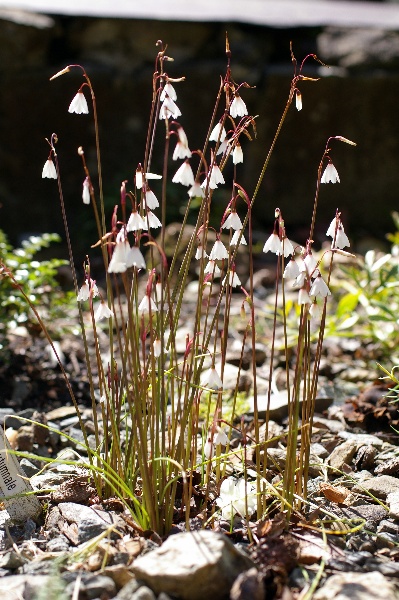 Colletia ulicina
This spiny red-flowered member of the Rhamnaceae is apparently the only member of its family whose principal pollinator is a hummingbird (Green-backed firecrown, Sephanoides sephaniodes). It is endemic to the central region of Chile where it occurs in a range of open to semi-shaded habitats from low (500 m) to intermediate (1500 m) elevations. Rainfall in this region is fairly constant through the year so it is suited to our damp Welsh climate. My plant was one of many kind gifts by those great plantspeople, Ron and Joan Beeston, who presented me with the opportunity to grow it in 2012. It has been very slow to develop into a spiny (gorse-like as the specific epithet suggests) shrub, but in a more suitable spot it might have grown more quickly as plants in the wild often reach 2-5 m high and several metres wide. I should be interested to hear from anyone else who is growing it, including information on ease or otherwise of rooting cuttings.
Daphne x whiteorum 'Beauworth', flowering again
As a result of the cold spring followed by the long hot summer many plants are putting on a second show of flowers now that normal late summer conditions have been restored. Several cushion phloxes, campanulas and a range of other plants fall into this category, and rather unusually Daphne x whiteorum 'Beauworth' is making another show, although rather half-heartedly it must be admitted.
Satureja montana
This little shrub suffers every winter, with wet rather than cold I fancy, but recovers when the sun shines, and this year's heat has suited it perfectly. It is just coming into bloom and will be in good nick for 6 weeks at least. Late insects love it and will seek it out, just as cats do with catmint. In its homelands around the Mediterranean it has long been values as a culinary herb, more subtle in flavour than common savoury (Satureja hortensis) and used particularly as part of a herb mix rubbed on meat before cooking.
Sempervivella alba
This is a really good trough plant for late in the season, smothering itself with flowers as the illustration shows. Nothing could be easier to propagate, simply take off rosettes with a bit of stem when out of flower and stick them in pure sharp sand in a semi-shaded frame.
Thalictrum delavayii 'Hewitt's Double'
I love all thalictrums for their beautiful, columbine-like foliage and delicate, airy flower heads. I have several forms of T. delavayii, all are reliable but slow to increase, so propagation is not easy, especially as I never seem to get any viable seed.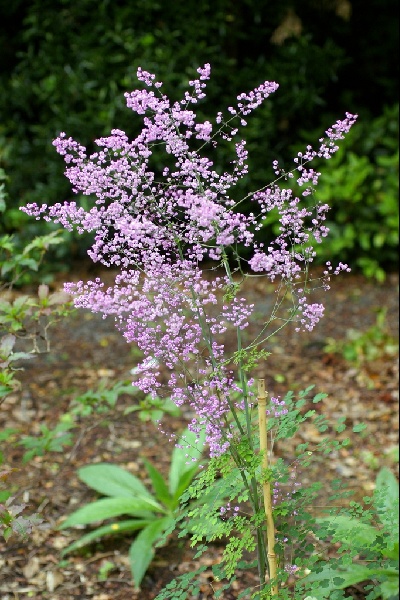 Two gentians
Two late summer gentians, to finish, the lovely white form of the willow gentian (Gentiana asclepiadea 'Alba'), and G. x paradoxa. Both are very long-lived and require nothing except a little shade from the hottest sun and to be cut back after flowering; G. paradoxa is so much easier to grow than the Asiatic autumn gentians, with which I struggle in the open ground.