Yes, for almost the first time in living memory it has been too hot to sit out in the sun in our N. Wales garden, temperatures in the past few days soaring to a heady 30C, and boy have some of the alpines taken exception.
And we have not had any rain for nearly 4 weeks, and for a freely draining (poor) soil that really needs a shower of rain every day and a shower of — you know what, on Sunday, that has spelled real problems. Water as I will (mostly by watering can as we are on a meter) some plants just can't take it, and as usual it is the engleria (kabschia) saxifrages that have succumbed first, horrible dead brown patches developing overnight on plants exposed to full sun.
In my experience it is pointless to try and recover such casualties, better to take them out, taking cuttings of any sound live material, rather than  have them remind you of the longest drought for 30 years (and its not ended yet!) in seasons to come. Even some of the silver saxes have been killed off in patches too, but providing undamaged rosettes remain the dead rosettes can be removed and the gaps filled with gritty compost – with a bit of luck and attention with the watering can, they will hopefully recover.
The value of even dappled shade in such circumstances, such is provided in parts of our garden by high-crowned trees, has been amply demonstrated, most of the best surviving saxifrages are in such situations. But to look on the bright side, weed growth has (almost) ceased and the lawns have stopped growing, and even the recently clipped hedges show little sign of producing new growth.
Ramondas
I do not have Ramonda nathaliae at present but R. myconi and R. serbica thrive here in a semi-shaded raised crevice bed (fingers crossed for the resurrection of the latter when the drought finally ends as the rosettes look deadly sere after all this dry heat). They take a long time to grow into large plants but are well worth the wait
(Click on individual photos to see larger images)
Rhododendron calostrotum ssp. keleticum (R. radica)
These two tiny prostrate rhodos don't flower here until late May-early June, but both are much treasured, flourishing in the same semi-shaded bed as the ramondas. R. calostrotum ssp. keleticum (R. radicans Group)  has quite large (5 cm wide) flowers that are a lovely strong colour while R. lowndesii (which has spread to cover an area 50 x 50 cm) has scattered pale lemony flowers of infinite charm. Both are true alpines, R. calostrotum ssp. keleticum inhabiting alpine bamboo forests and high mountain meadows, thickets, slopes and rock faces from 3000-3900 m in SE Xizang, NW Yunnan and perhaps Myanmar; R. lowndesii growing on dryish peaty areas and cliff slopes from 3750 – 4500 m in Nepal. Both root as they grow and if top dressed with a mixture of fine peat and sharp sand it is easy to lift pieces for propagation.
(Click on individual photos to see larger images)
Adenophora nikkoensis
Plants with bell-shaped flowers have always had a special place in my affections and over the years I have grown many different campanulas, most of which have been mentioned in these pages, but there is more to Campanulaceae than campanulas, and one of the generally unregarded and neglected genera is Adenophora, of which there are 60+ species, mostly occurring in E. Asia with a few in Europe, quite a few being true alpines, especially in China. I have grown (and lost) several species – A. bulleyana, A. confusa, A. tashiroi – and currently have A. nikoensis grown from AGS seed, which is the best of those tried in terms of compact form and good dark blue flower colour. Adenophoras are separated from campanulas by their having a tubular or glandular disc at the base of the style, not exactly an obvious distinguishing feature for the average gardener!  They are easy to grow, preferring full sun and well drained soil, and being clump-forming rather than stoloniferous, and not generally free with producing seedlings, they are not, like some campanulas, invasive.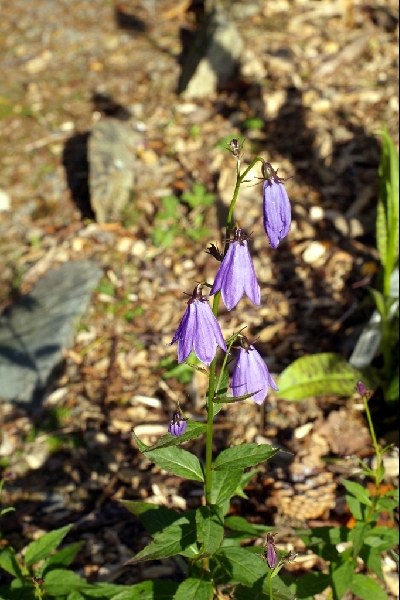 Three dactylorhizas
Three very similar dactylorhizas, at least as far as flower colour is concerned, have performed well this season and because they are purposely placed in water retentive, semi-shaded locations in the garden have not suffered unduly from the drought.
D. x grandis (D. fuchsii x praetermissa) shows all the advantages (but also a little of the vulgarity) of hybrid vigour, being taller, larger flowered and altogether more vigorous, and, like the others it is  easy to propagate by division, best done in spring when the 'noses' begin to emerge.
D. 'Bressingham Bonus' (a hybrid between D. fuchsii and [possibly] D. foliosa) is slightly less vigorous but perhaps even more free flowering cultivar, retaining the spotted leaves of D. fuchsii, but this is less of a feature than in D. x grandis.
D. foliosa has unspotted leaves and my form is much less vigorous than many that are seen around the country; a slight crinkling of the leaves on emergence suggests that a virus may be responsible – should I root it out and burn it?
(Click on individual photos to see larger images)
Two celmisias
Celmisia gracilenta has wound its way between the stones and other plants in the half-shady crevice bed for several years now and is becoming a bit of a menace, expecially as it it has deep, wiry roots that are difficult to extract, but it is a pretty little thing with its barred leaves and fragile-looking daisy flowers.
Celmisia hectori, on the other hand, is an aristocratic nearly prostrate shrub with some of the most silvery foliage in the genus, and that's saying a lot. The last thing one wants it to do is flower, as the blooms are fairly insignificant and adversely affect the symmetry of the cushion. Watch these and other celmisias in this hot, dry weather, they hate it and will no doubt breathe a 'planty' sigh of relief when the N. Wales climate returns to normal with its high humidity and cloudy skies.
Mertensia maritima
This unusual plant, with its edible, apparently oyster-tasting leaves (I haven't tried it!), is a British Native restricted to seashore situations in Scotland and more rarely down the W side of England and a few locations in N. Ireland. It is an ephemeral, coming and going as its mobile shingle or sandy beach habitats determine. The seed is unusual in being able to survive prolonged periods in sea water, obviously a strategy evolved to cope with its need to keep on the move. The foliage is one of the most silvery-blue in the garden but the small flowers are, let's face it, disappointing, a plant for the curious really.
Lilium martagon
On the night of 4 June we had quite a severe wind storm, little rain but strong gusts that did quite a lot of damage.  When I went out to survey the situation in the morning my delphiniums were flattened (why do I bother with them in such a windy spot?) and several stems of my favourite lily (which is saying a lot), L. martagon 'Album' were broken off and lying on the ground. So I brought them in and put them in a vase where we enjoyed them for a week or so.
Penstemon pinifolius 'Mersea Yellow'
As expected, penstemons have been unphased by this hot weather, its the winter damp they hate, and Penstemon pinifolius 'Mersea Yellow' has been a fine sight lolling over the edge of a raised bed.
Dianthus arpadianus
This 20 year-old plant of Dianthus arpadianus is not usually as evenly covered with its starry pink flowers as this so I thought I would show it to you. So many of my plants are now, like me, old beyond what's good for them, but old friends are dear friends and as long as they give more pleasure than trouble I let them be.
Roscoea cautleyoides 'Kew Beauty'
To finish up here is a photo of one of my favourite plants, eagerly awaited every year and never appearing much before midsummer's day.