So, where were we? As I recall the boys had felled (most of) the Korean Fir, and I was left with a two metre stump.
Once they had returned home, Sheila and I took turns at sawing this down, quite an effort made harder by the sticky resin. After half-an-hours hard work, aided by a mallet and wedges, it finally succumbed. It took another half day to weed and sieve through the neglected (mostly scree) soil in its vicinity. Here is the stump, and a very large chunk of limestone which had remained from the original construction of this part of the rock garden, too big to move and originally used as a standing area/stepping stone, but latterly buried under the tree.
I decided that the rock was taking up too much new planting space where it was, and in any case I needed its help in creating some relief in the new area. Consequently, using leverage and chocks (logs) I very carefully manoeuvred it into an upright position. The secret is to make sure that the cavity you want it to fall into is adequately excavated (and also that it does not fall back on you and break your leg!). Here is a shot of the work in progress.
There were in fact two such boulders which had been used as standing areas in the original scree. The other had already been turned on its end so it too was erect. Here are a couple of shots of the whole area, free from weeds (hopefully!) and more or less landscaped. It is about 7  x 2 m in extent.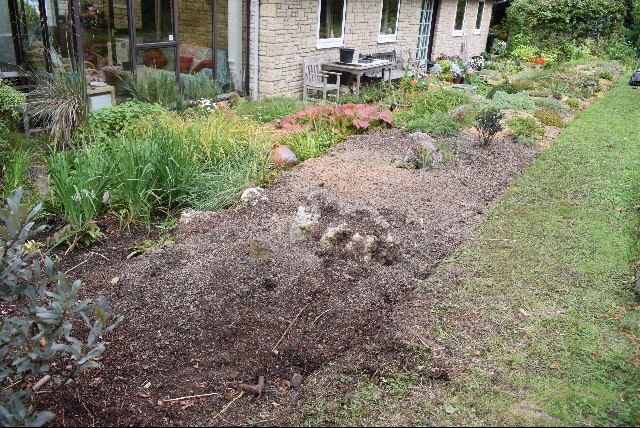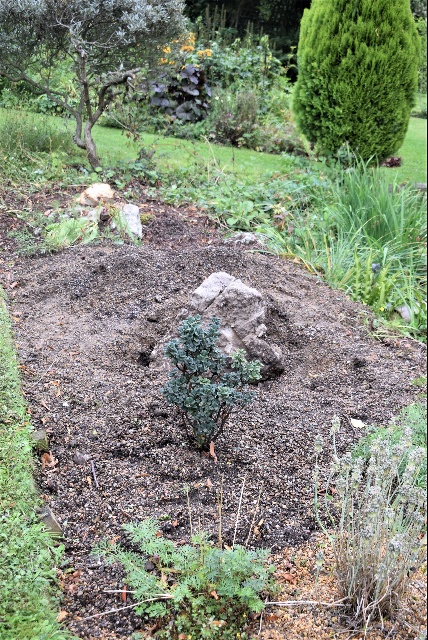 The shrub is a fairly ancient, and very slow, Salix x boydii, that mysterious triple hybrid that unexpectedly does not involve S. reticulata, and has only been found once, somewhere in Glen Clova in the nineteenth century.
It might be worth mentioning the weeds that had colonised this scree of 25 years standing. By far the chief culprit was Potentilla cuneata, an attractive alpine, but with the potential to become a menace in scree. There was also red fescue (grass), loads of violet (Viola riviniana, a major problem here), quite a lot of Hesperanthera coccinea, (ditto, but what a lovely weed!), and, I am sorry to say, some horsetail (Equisetum x litorale). This is not a real problem in this garden (mostly heavy soil, it romps in a light soil), but will continue to pose some problems in this scree I guess.
I only kept about 10 plants, including several self-seeded pulsatillas, and these have been dibbed in round one of the rocks.
At the far end (away from the rest of the bed), it slopes down a level to the pond margin. This also had to be cleared of weeds, but bog irises and several fine peonies have been kept. Here is that slope from below.
Since then the whole area has been covered with about 3-5 cm of roughly sieved compost. Now that it rained (all day today, here), I shall fork this in and start some planting before top-dressing the whole area with 1 cm gravel.
All this week the Eucryphia 'Nymansay' has been a wonderful picture. It is now more than 10 m high.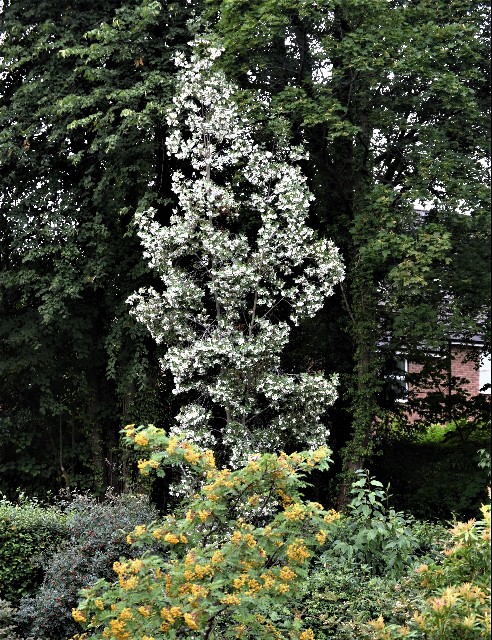 The heat and drought earlier this summer struck before some of the later rhodos had flowered. This may explain why we are enjoying a moderately good display from Rh. calostrotum at present. It is rather buried under Viburnum grandiflorum 'Lowndes variety', but I have since cut some of this back, and have removed some of the (layered) rhodo into a better-lit site.
Here is an interesting plant. Back in 2015 I collected seed of Hypericum grandifolium from high up in north-west Tenerife. This is the largest of the four Canarian endemic St Johns Worts found on that island, a shrub that can easily reach to two metres or more. I raised a couple of seedlings which were overwintered in the alpine house where they rapidly grew too big. I plunged them outside the following summer and was rewarded with a few of the large yellow flowers. I promptly forgot about them last winter and they were left outside. Come the spring, not surprisingly they looked dead as a dodo, but when chucking them out, I noticed green buds at the base of one. I cut it back and replanted it (minus pot) in a new sheltered spot. It has now grown back to a metre in size and has very handsome foliage.
It is of course the time of the cyclamen. C. hederifolium has come late here this year, perhaps held back by the earlier heat. In late August it was in full swing in other gardens, whereas scarcely a bud was to be seen here. The colchicums are late too and are only just starting to come now. The cyclamens are finally in full flower however.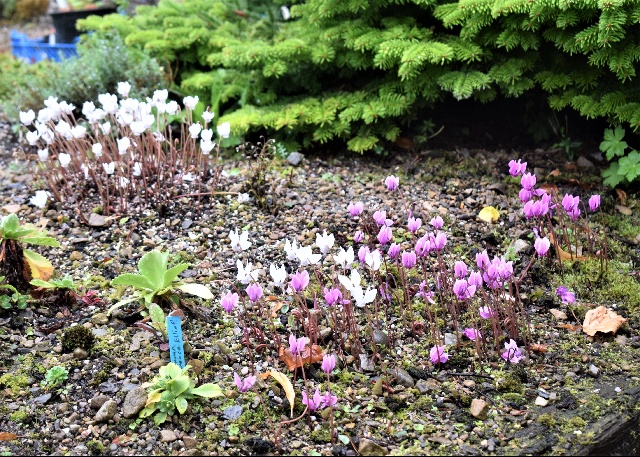 A few views of the garden now. Here is the ginkgo, with Sheila's new bed and the shed in the background.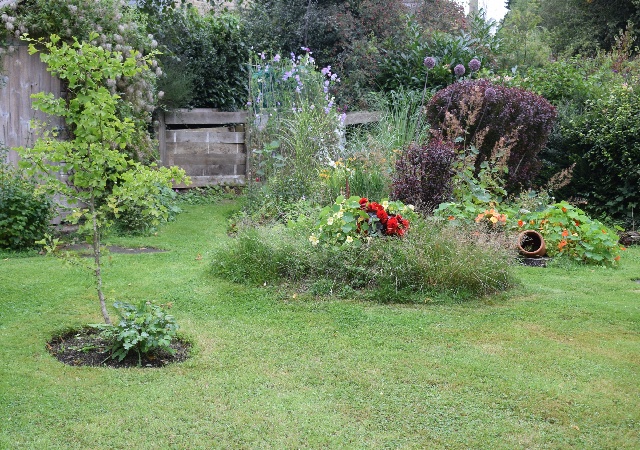 We like to keep the hummock with the bedding flowers on top with the grass uncut while the bent is in flower; it creates a lovely misty effect. It has been chopped back now.
On the other side of the house, here are parts of the front rock gardens and screes, with the alpine houses.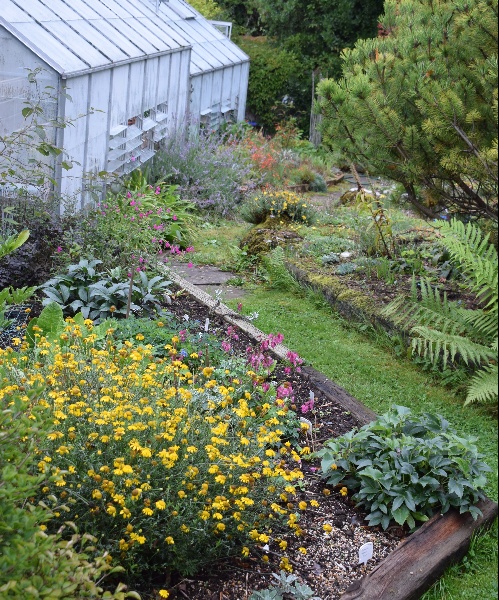 Here is a bit of a joke, mostly at my expense. When we moved here we inherited two rather horrid old garages, to which we have done very little. One has been converted into my potting shed and we do (sometimes) keep the car in the other. But they are unsightly, and early on we decided to try and screen them with vegetation. The following picture will show just how successful we have been!. Behind this great green screen of bay (Laurus nobilis) and Virginia Creeper (Parthenocissus), there is a garage, believe it or not!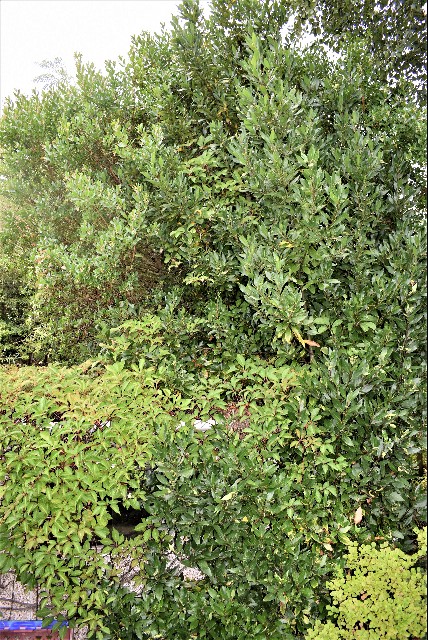 Howick Gardens
Last weekend we paid one of our occasional visits to Howick on the Northumberland coast, well worth a visit at any time of year. The garden is best known for its extensive arboretum, many accessions having been collected by Lord Howick himself. Less celebrated perhaps are the borders, but they were very fine for our visit.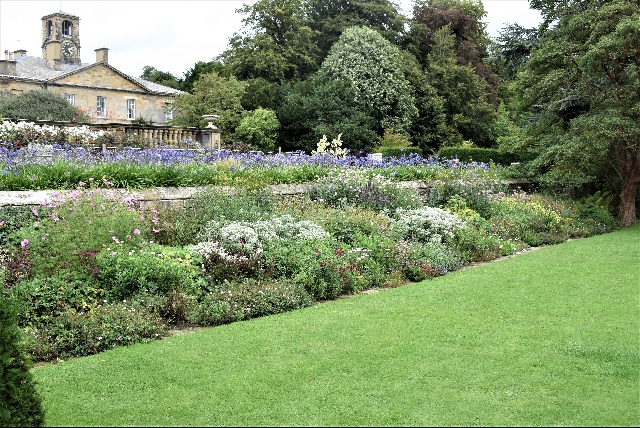 Agapanthus are not always very successful this far north, hailing as they do from South Africa. Remarkably for bulbs which grow in wet places in the wild, they seem to thrive best on airy terraces with us. Probably they appreciate the enhanced drainage during the winter. At Howick Hall there was a superb display of 'Headbourne Hybrids'. I had not previously realised that Lewis Palmer, who raised them, was the uncle of Lady Mary Howick, for many years the Doyenne and guiding principle behind the garden. I fondly remember tripping over her as she knelt weeding in her precious 'Silverwood', back in the '80s.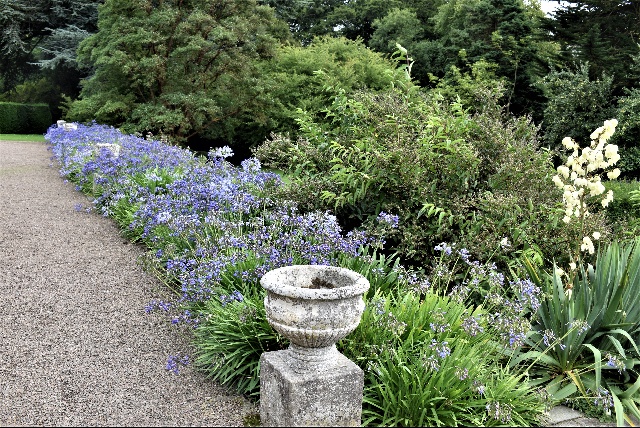 Eucryphia glutinosa was very fine, putting my little twig (which flowered for the first time this year) to shame.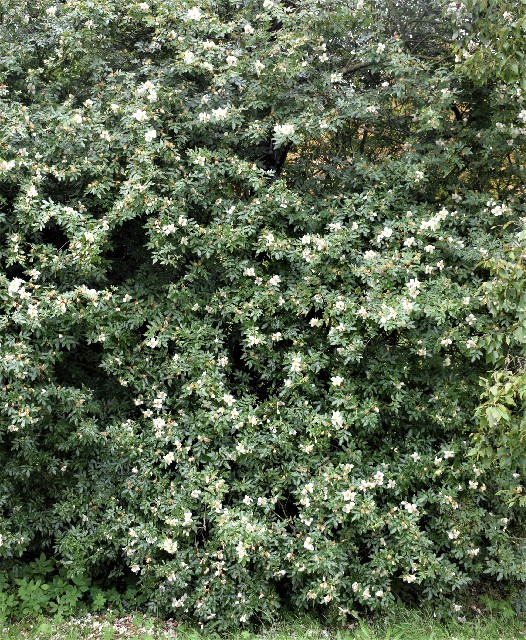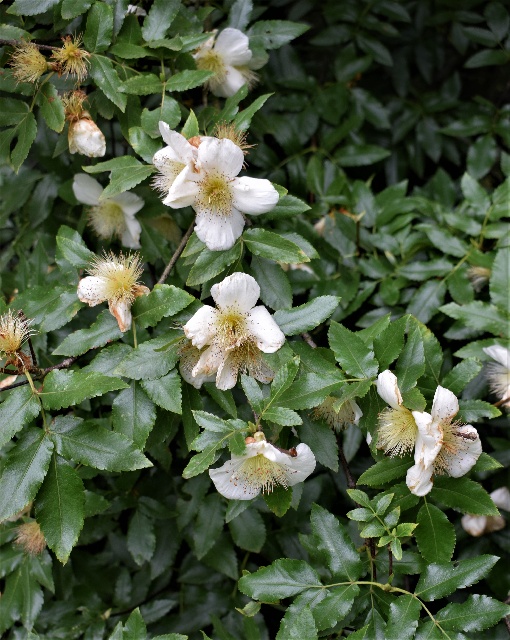 Another wonderful late-flowering South American, Luma apiculata. Don't you just love the bark?
The extraordinary Mahonia oiwakensis.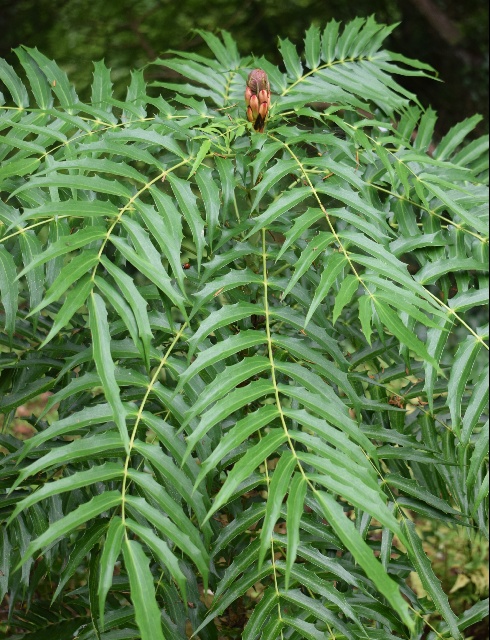 Romnaea coutleri. Having tried a couple of times, I greatly envy folk who can grow this.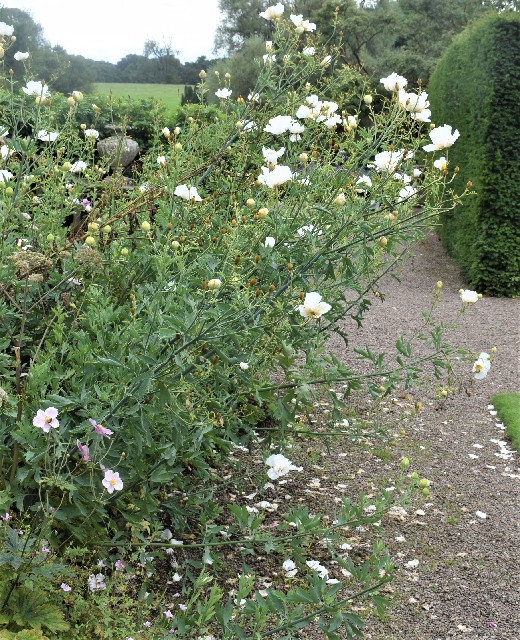 Finally, this seems to be a white-berried berberis, unlabelled. Does anyone know what it is? Replies to the discussion section please.