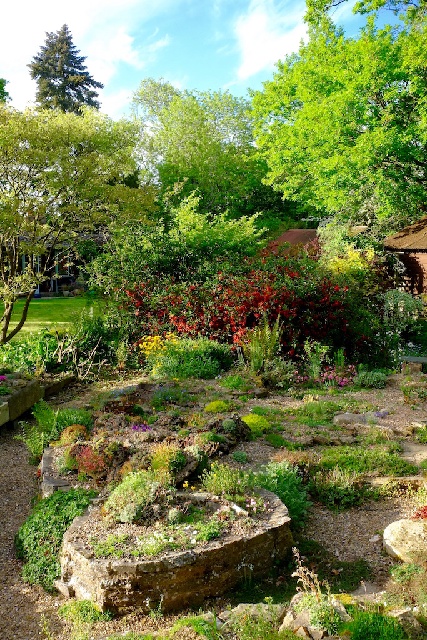 We live in disturbing times with reports every day of declining biodiversity and collapse of insect and bird populations in Europe, the omnipresent problems of excessive waste (most topically the environmental damage of plastics), and the over-riding spectre of climate change. An uncertain but predictably unfortunate outlook. Coupled with this is that 'plant blindness' that the Kew botanical horticulturist Carlos Magdalena writes about in his very timely book The Plant Messiah, and in this recent article in the Washington Post.
So does gardening provide a real focus to reconnect us as individuals to the natural world? Are we disturbing the universe or can we become more in tune and sensibility with it? Here is an insignificant answer in a quiet corner of Kent…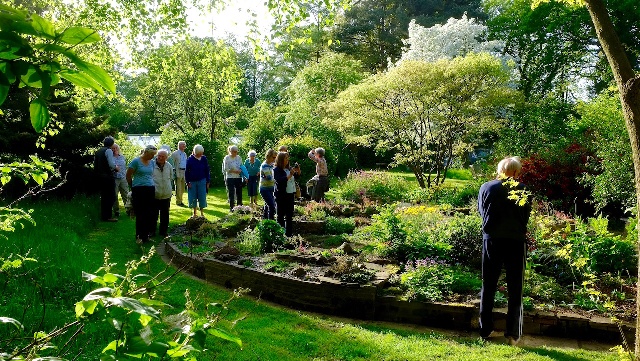 As the days lengthen into spring and early summer one of the nicest aspects of gardening is visiting friends late in the day as the warm evening light sculpts the garden. We have just had such a Group visit to one of the most delightful gardens I have seen because of its secluded situation in the woods to the south of Canterbury. Richard Sampson and Phyllida Edwards live on the flanks of the valley that runs on down to Elham in one of the most beautiful and quiet parts of east Kent, which still has extensive areas of old and coppiced woodland. In fact you can walk from here southwards for nearly ten miles entirely through connected woods.
Their garden is more a smallholding with an orchard of old fruit trees and grazing for sheep, as well as one of the most appealing alpine gardens I have seen anywhere. Richard has an artistic training and background, and is also a woodsman, carpenter, photographer – as well as alpine gardener – all of which result from and contribute to the ambience of where they live and the wealth of wildlife it supports. Their alpine garden is a wonderful example of the detail and diversity that these plants can bring into the garden, as well as the artistry very different from other ways of gardening. After regularly visiting and describing the Alpine Garden Society Shows, in which plants are primarily grown for display and exhibition, Richard's garden is one of the best examples of how they can be gardened with as well.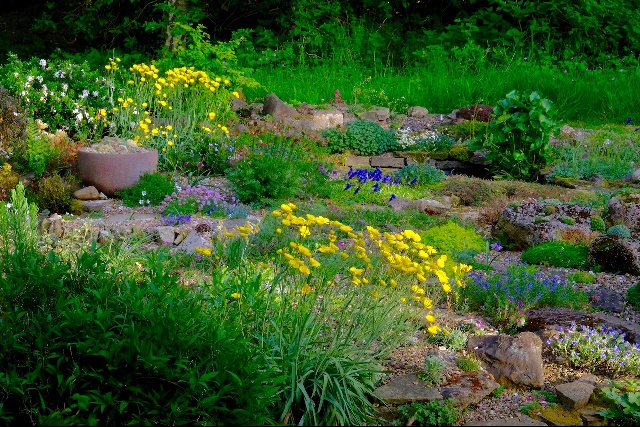 In mid-May there is a wealth of plants and colour in this small area with Ranuculus gramineus (probably the selected large-flowered form 'Pardal') and Gentiana acaulis flowering profusely, along with Daphne 'Eternal Fragrance' and many smaller treasures.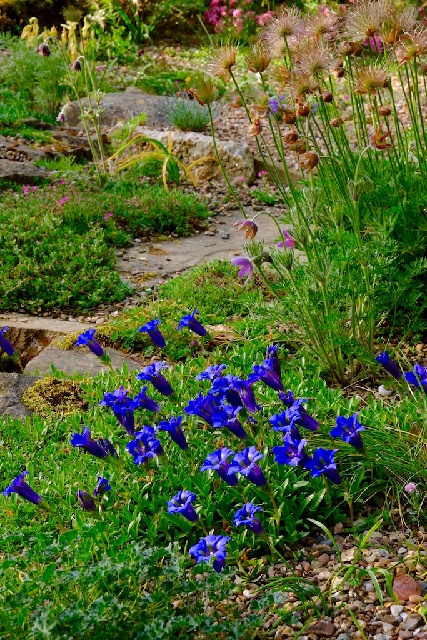 The harmony of an alpine garden is as much to do with space and setting as with plant and colour – here for example the echoes of blue and yellow in the flowers of Lithodora oleifolia, Veronica armena, and gentian with linum and foliage of Campanula garganica 'Dickson's Gold'.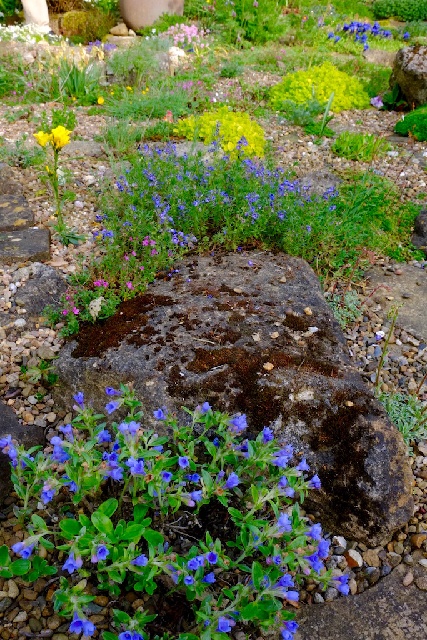 But just look closer and there is that detail so beloved by any alpine plantsman with small troughs within the garden planted with such things as the diminutive Sorbus poteriifolia and a Dianthus, probably 'Conwy Silver'.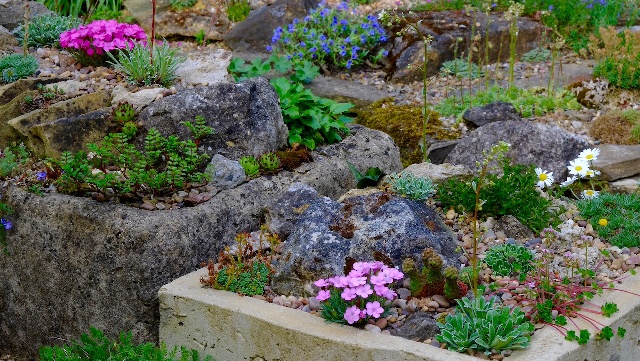 On a sunny evening the golden flowers of Erigeron aureus positively glow!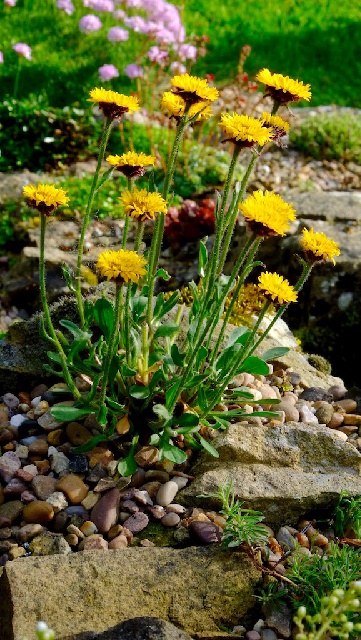 It might seem curious to grow alpines in a clearing the woods like this, but it works wonderfully well because of the artistry with which the rock garden is planted and the naturalistic setting so evocative of how these plants also grow in nature.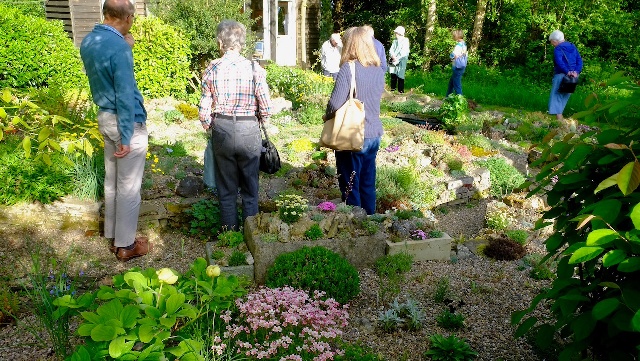 Step just a few yards away and the scene becomes charmingly different…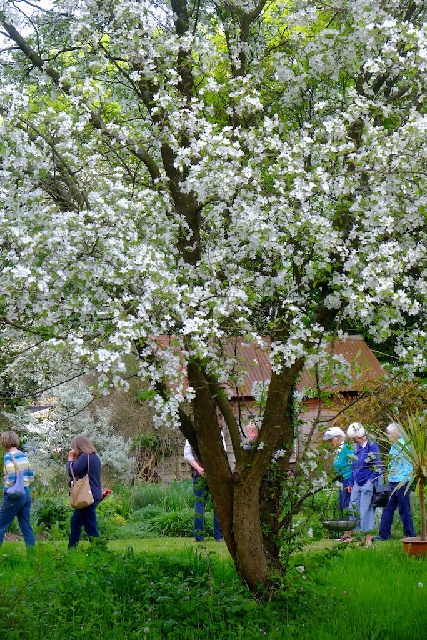 And the homeliness of the setting corresponds with the generous and artistic nature of our hosts.
Beyond, the garden seamlessly merges into old orchard and other smallholdings.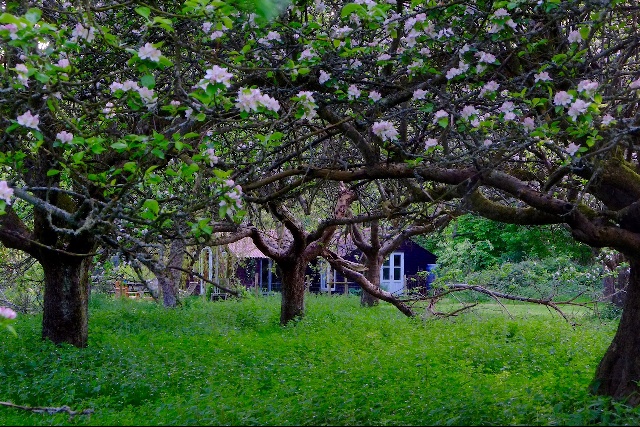 And into true woodland which in places provides surprises when you look up…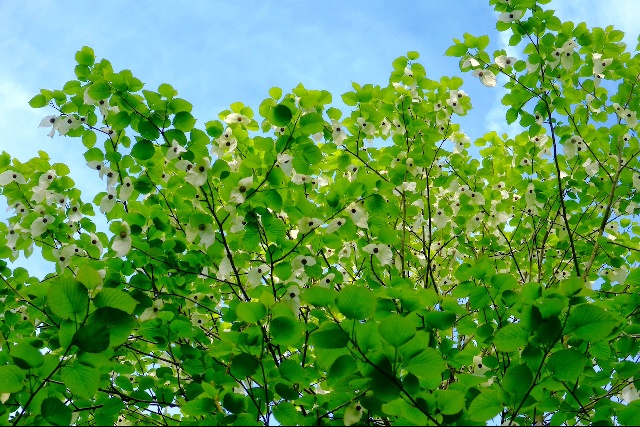 Here under the Davidia, and along the path beyond are cyclamen and trilliums and erythroniums, now retiring from view as the woodland canopy captures most of the light in early summer. In the UK temperate woodland is the most natural expression of climax vegetation, but a clearing in the garden can take you to those high meadows and screes in the most delightful of ways.