Writing a diary is quite a personal thing, and belonging to a society such as the AGS for over 45 years is too (as well as opening a garden for the National Gardens Scheme for 30 years or more). So my perspective differs somewhat from the perhaps higher ideals of growing and exhibiting alpines, or even botanical exactitude – although this appeals to me hugely. I am interested in the way 'the garden'  connects to and can mirror the natural world and also in the people who make gardens, run nurseries and are part of more specialist horticultural societies such as the AGS, SRGC, NARGS, HPS and many others.
The AGS along with other specialist plant societies stands at a moment of uncertain and significant change, both in its own outlook and in our present intellectual and political culture. But the ways we grow plants and the local connections between gardeners remain as important as they ever have been. So next weekend we are holding an afternoon meeting in Kent especially to introduce gardeners to growing alpines in troughs and raised beds, and as part of the 'wider' garden.
Our guest speakers, Hester Forde and Sarah Morgan, may not be so well known to many members of the AGS in general, so for this entry I would like to introduce both of them more clearly, along with our aims for this autumn day in Kent. Connections on the Social Media and described in the AGS Journal are all very well, but at its heart the society revolves around the inspiration we can put across where we all live and garden, and from those other people we meet and who do the same.
Hester Forde
Hester is one of the most well known and highly respected of all gardeners in Ireland, which has its own rather special and closely integrated gardening community, along with a wonderful horticultural legacy as exciting as anywhere in the UK. Coosheen, Hester's garden just outside Cork, will be known to many AGS speakers (if not members) because she runs the combined AGS/HPS Group of gardeners in south-west Ireland and invites many plants-people from across the Irish Sea to share their experiences of plants.
She has also travelled widely across the British Isles and into continental Europe in search of plants and gardens. This picture was taken at Great Dixter in Spring 2016, and her visit here again this autumn to help Derry Watkins on her nursery stand is what has given us the opportunity to ask her speak about growing alpines in troughs and raised beds here in Kent next Saturday.
She grows a wonderful diversity of plants, amongst which alpines play their part. But like many of us it is really that fascination with the artistry and creativity of making a garden and discovering new plants that captivates, as anyone who has stayed at Coosheen and benefited from her generosity will appreciate.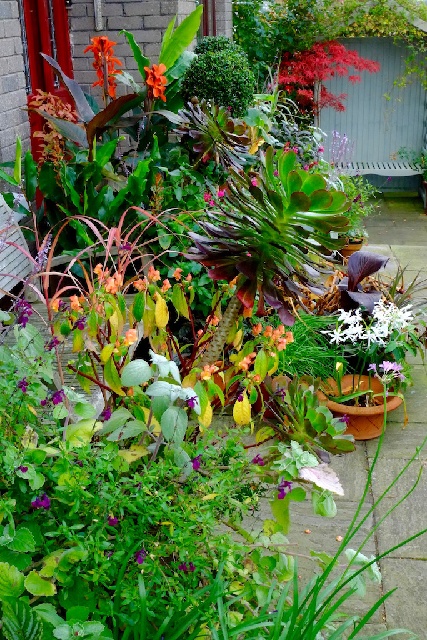 So this is the theme of her talk to us on 'Small Treasures, Troughs and Raised Beds'; a personal view of how these can contribute to that long experience of making and opening a fine garden in south-west Ireland.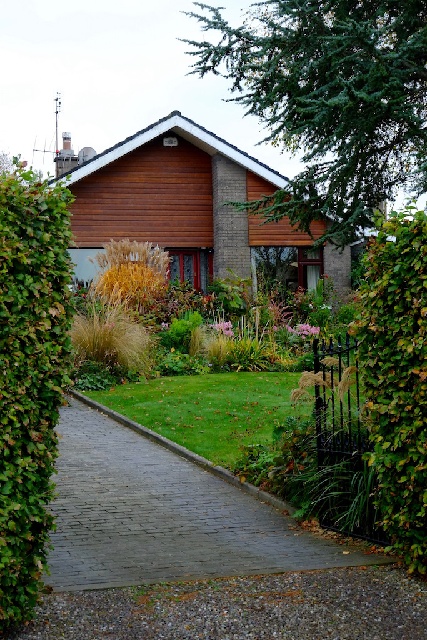 Sarah Morgan
Sarah Morgan has a different background and experience of plants and gardening as an horticultural lecturer (at the Universities of Kent and Greenwich and at Hadlow College) and Garden Designer, both in the UK and and abroad. Just recently too she has become the Chair of the Society of Garden Designers, with especial emphasis on education.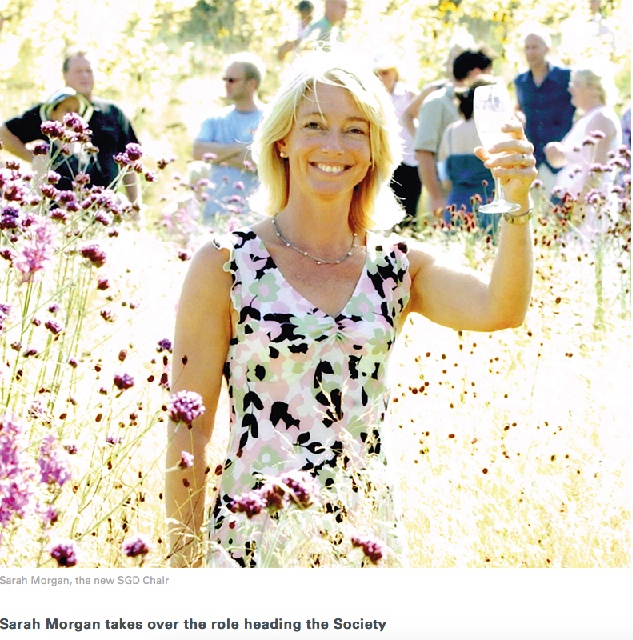 She also has connections with Great Dixter in enabling placements for students to gain experience at such an unique garden and is pictured with Fergus Garrett in an earlier Diary entry in December 2016. Her home is here in north Kent close to Mount Ephraim Garden, where she has designed an intriguing 'Mizmaze' as well as the Millennium Rose Garden, which tells the story of the rose from its first introductions into horticulture.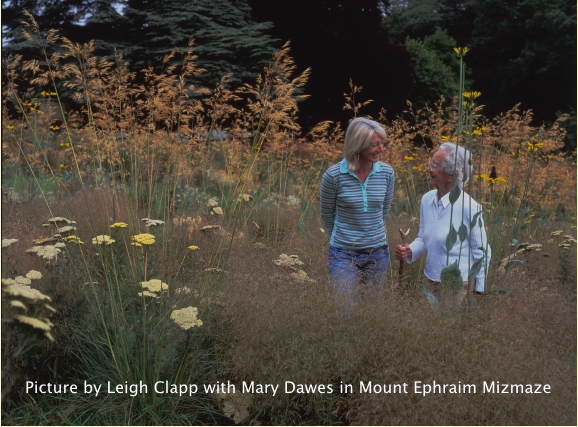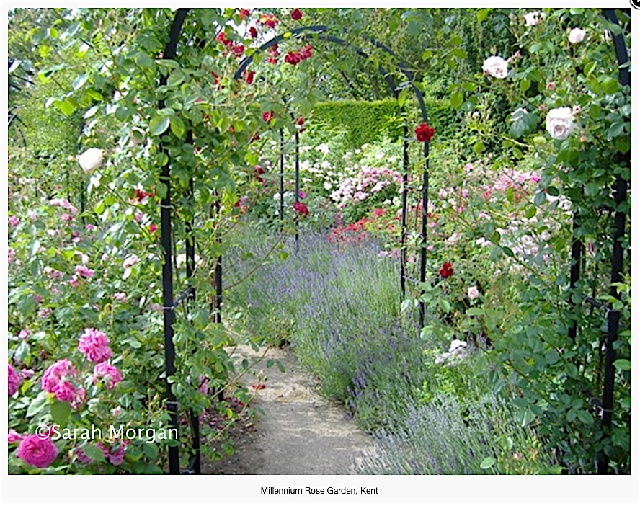 Sarah uses alpine plants, in their broadest sense, in some of her garden designs, but she also has a home on the flanks of the French Pyrenees and a strong social and gardening involvement with local people in her village there and the plants of the nearby hills and mountains. Her talk to us will be rather different and unique in drawing these different facets together, 'The Mountain Garden, Plants and People', which is just what the Alpine Garden Society itself has long promoted and celebrated.
Our overall aim for the meeting is to introduce these small plants of montane woodlands, meadows and natural rock gardens to a wider audience of gardeners in Kent, and to prove that they can be a part of any garden and add immeasurably to its interest and excitement. We look forward to welcoming AGS members old and new, as well as any other adventurous gardeners with that true fascination in the wider world of plants.